Top 5 Longest And Most Spectacular Bridges In Africa
By SinAfricaNews March 13, 2021 0 Comments
Africa is the world's fastest growing continent, and in various fields, the continent continues to improve the lives and upkeep of its people as more economies are not just transitioning from lower-middle-income economies to upper-middle-income states but are also transforming the economic outlook of citizens through the provision of jobs, access to healthcare facilities, and education. But of all its improvements and continuous feats, the advances in infrastructure and technology remain one of the most-talked-about achievements of Africa. Today, the continent can boast of well laid out transportation systems that link villages to cities and cities to member states. Here is a list of the Africa's longest bridges that are changing the continent's economies for the better.
Cairo's 6th October Bridge
This 18.705-kilometer bridge is the sole preserve of the government of Egypt. Being the longest bridge in Egypt, the bridge comfortably rests across the River Nile and also remains one of the modern treasures of Cairo. The construction of this magnificent bridge was completed in 1966.
3rd Mainland Bridge of Lagos
Nigeria's 3rd Mainland Bridge is undoubtedly the longest bridge in West Africa, stretching 10.5 kilometers. Officially named the Ibrahim Babangida Bridge and proudly opened for vehicular traffic in 1990, this bridge is said to connect Lagos State and Lagos Island to the mainland. Just recently, the Federal Executive Council of Nigeriaapproved a contract for a full assessment of the 26-year-old bridge, following reports of excessive vibrations during traffic loads.
Mozambique Island Bridge
The Mozambique Island Bridge, stretching 3.8 kilometers, is undoubtedly one of the most spectacular bridges in the world. Constructed with concrete, this bridge rests 12,500 feet over the Indian Ocean, connecting the mainland of the country to the Mozambique Island popularly known as "Ilha de Moçambique."
Wouri Bridge of Cameroon
Built in the 1950s, this 1,800-meter-long bridge links the capital of Douala to the main port of Bonabéri. One interesting characteristic of the bridge is its capacity to carry both road and rail traffic. So far, it remains one of the key drivers of economic growth in Cameroon, connecting trade and commerce.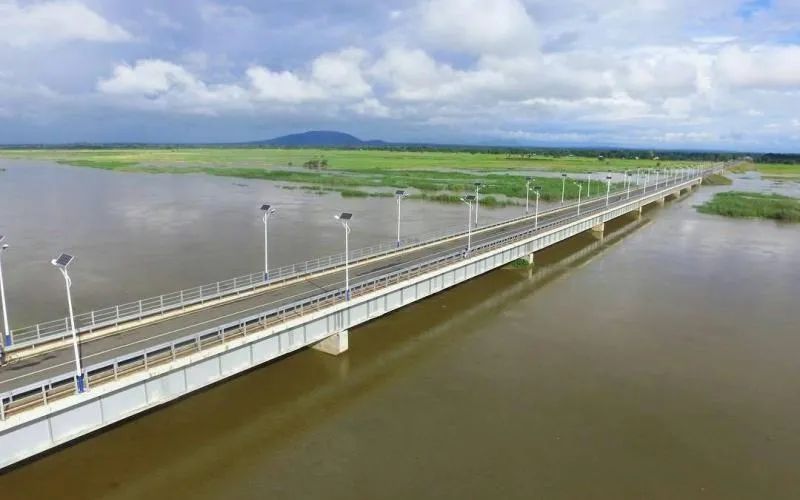 This bridge is by far the longest and largest bridge in Tanzania. Stretching across the Rufiji River, the Mkapa Bridge of Tanzania, which is named after Benjamin Mkapa, the third president of Tanzania, opened to traffic in 2003. So far, the construction of this bridge is said to link Tanzania's southern economic zones, boosting trade between towns and cities within the country.